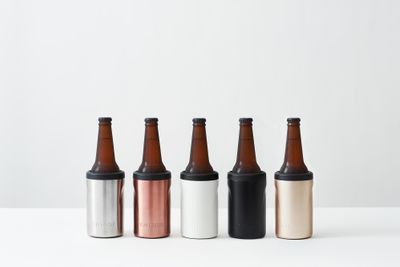 Huski Beer Cooler
$39.99
This is not your typical beer cooler. The Huski Beer Cooler 2.0 is a premium high-performance cooler that keeps your beer ice-cold while you drink. Great for BBQs, out on the boat, a day at the beach or in the comfort of your own home. Perfect for anyone who enjoys a cold beer.
Keeps your drink ice-cold. Triple insulated for maximum performance.
Fits more beers, better. Fits most 330ml, 355ml & 375ml bottles and cans.
Detachable 3-in-1 opener. Pops, twists and slides to open bottles and cans.
Marine grade quality. Built with corrosion resistant 316 stainless steel.
No condensation. Stay-dry design keeps hands and table dry.
Shaped to fit your hand. Scalloped side panels for a better grip.
Slip-resistant base. Soft touch silicone pads protect and stabilise.
Dual-function design. Works as a cooler and a tumbler.
The secret behind Huski's remarkable ability to keep drinks at the perfect temperature longer is the triple insulation. All Huski coolers are double-walled, vacuum insulated and copper lined for maximum thermal performance. Huski Beer Coolers are built to last with corrosion resistant marine grade 316 stainless steel.
The Huski Beer Cooler adjusts to fit your drink with its Push-Fit Flexilock™ Vented Lid. New push-in design makes swapping out drinks faster and easier.
Your Huski also comes with a handy detachable 3-in-1 opener that fits in the base of your Huski. This multi-function opener pops crown caps, twists screw caps and slides to open can tabs.
Perfect for gifting. Huski Beer Coolers come packaged in die-cut kraft presentation boxes which are 100% recyclable.
DESIGN IN NEW ZEALAND
SKU: 10000-106