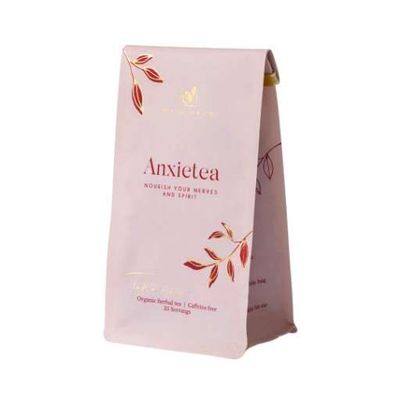 Better Tea Co - Anxietea - Pouch of Tea
$23.99
Sink into a cushioned bed of calm with the soothing aroma of Anxietea.
From a smooth first sip to final drop, you will feel centred by this well-balanced brew. Gentle herbs and spices create fullness and complexity with just a hint of sweet licorice root. Everything is in harmony.
A unique blend of herbal ingredients designed to bring your mind, body and soul back to a state of calm. Anxietea helps to lower your levels of stress hormones so you can centre your thinking.
Contains 35 servings of Anxietea.
Home Compostable Pouch:
Fueled by our relentless pursuit of better, these pouches embody our unwavering commitment to sustainable practices and unparalleled quality.Crafted from premium plant-based materials, these pouches are designed to biodegrade naturally in your home compost bin within just 12 weeks.Each pouch has a recyclable tin tie ensuring that every sip of your premium tea is nothing short of divine.Indulge in the ultimate tea experience, where luxury meets sustainability, with our new home compostable pouches.
SKU: 10000-138